This page is for the crowd-funding campaign for the
Camino Quarterly
. This phase of the campaign will run until midnight on June 30, 2014, the day before the first official issue of the magazine is scheduled for publication. After that date, we may reconfigure the donor levels and rewards.
The
Camino Quarterly
is a print journal dedicated to accurate, up-to-date, usable information about the Camino de Santiago, the evermore-popular 500-mile pilgrimage across Spain. Whether you are thinking of walking the Camino, have already walked it once or many times, or may never walk it but are still interested in learning about it, the
Camino Quarterly
is for you.
Just as walking the Camino de Santiago is a journey with a
before
,
during
, and
after
; reading the Camino Quarterly is a journey through the three stages of
preparation
,
pilgrimage
, and
reflection
. While each issue is focused on a central topic (the topic for this preview issue and our first "official" issue is the Camino Francés), the magazine progresses through those three sections.
In the beginning
preparation section,
we'll cover topics such as Camino History & Legends, Gear reviews & guides, Packing, Statistics (including temperature, rain, and Compostela certificates), Spanish culture & language, Technology, and Words of Wisdom.
In the middle
pilgrimage section,
we provide a Quarterly Events Calendar, In-depth Features about our central theme, a "She said; He said" department, Gallery of Camino Passport Stamps, Interviews, Cathedrals, a "Don't Miss This" department, Featured restaurants, Spiritual matters, Camino humor, and more.
In the ending
reflections
section
, we offer impressions by those who have walked The Way: our "Everyone walks their own Camino" department, Artistic responses (art, poetry, photo essays, etc.), News from English-Speaking Pilgrims' Associations' Worldwide, a "Wish I had; Wish I hadn't" and a "We were told but we learned this" departments, as well as Camino book reviews, and so forth.
We already have the production team in place and we published a 28-page
Preview Issue
(#0) on April 1, 2014, to give away at conferences (e.g. the American Pilgrims on the Camino Gathering in St. Louis, MO, that same week) and Camino educational events. Although we've done no publicity prior to April 1, we have received a good number of article submissions and article proposals. View the preview issue here:
Preview.CaminoQuarterly.com
or by clicking the magazine cover.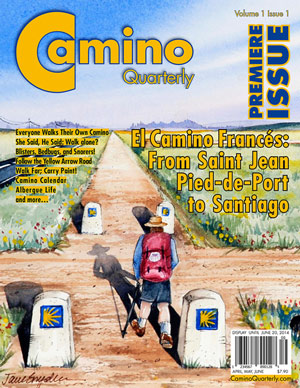 The
First Official Issue of the Camino Quarterly
(#1) is well into production and will contain at least 64 pages, with a publication date of July 1, 2014. And our second issue will deliver another 64 pages or more, three months later.
The rhythm of a quarterly magazine meshes well with the rhythm of the Camino, because the four seasons exert a strong effect upon the route and the walkers, so much so that every three months it's an entirely different experience.
Note:
If you have been directed to this page in order to subscribe, please scroll down and check out the options under the heading
Our Rewards
.